After days spent exploring the wilderness and encountering exotic animals, a relaxing beach stay can provide a much-needed opportunity to unwind and recharge. Africa's island paradises afford an unspoiled refuge of sand, sun and a chance to try new water sports and activities, such as snorkeling and surfing. Additionally, a beach stay can provide a chance to experience a different side of the African continent, allowing guests to get a taste of the local culture and try new foods. We have highlighted a few of our favorite tranquil escapes to add-on to your dream safari each beckoning a call to unplug, dig your toes in the sand and truly relax.
Benguerra Island, Mozambique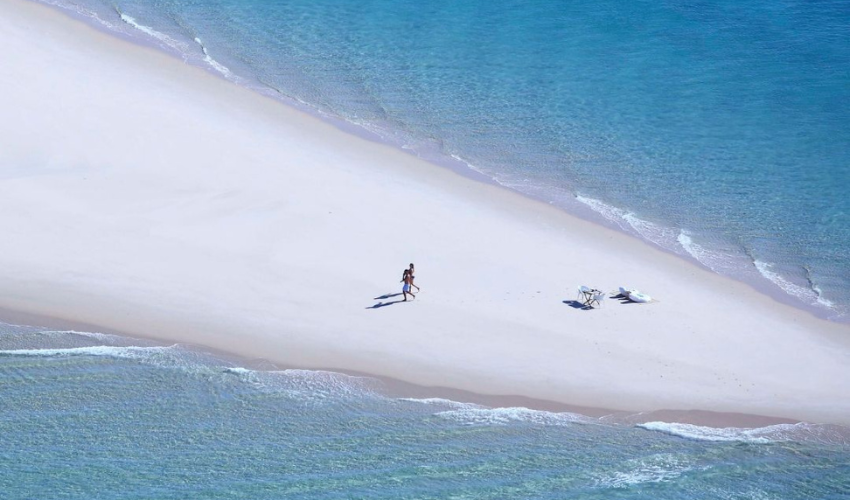 One of our safari experts favourite ways to end a South African safari is to make the short journey to Mozambique's legendary Benguerra Island. The helicopter ride, alone, is something to travel for, with breathtaking birds-eye views of Mozambique's jungle, reefs and beautiful coastline, before gently touching down in the legendary archipelago. An idyllic mix of white-sand beaches, azure water, reefs teeming with fish, perfect sunsets make it one of Africa's most alluring destinations.
Our African Romance safari offers guests the opportunity to experience the ultimate combination of adventure and relaxation. Explore stunning Cape Town and sample the flavors of the Cape Winelands, before immersing yourself in the nature on a luxurious safari on a private Kruger-area reserve, encountering a variety of wildlife. Finally fall in love at your Eden-like beach retreat off the coast of Mozambique.
Zanzibar, Tanzania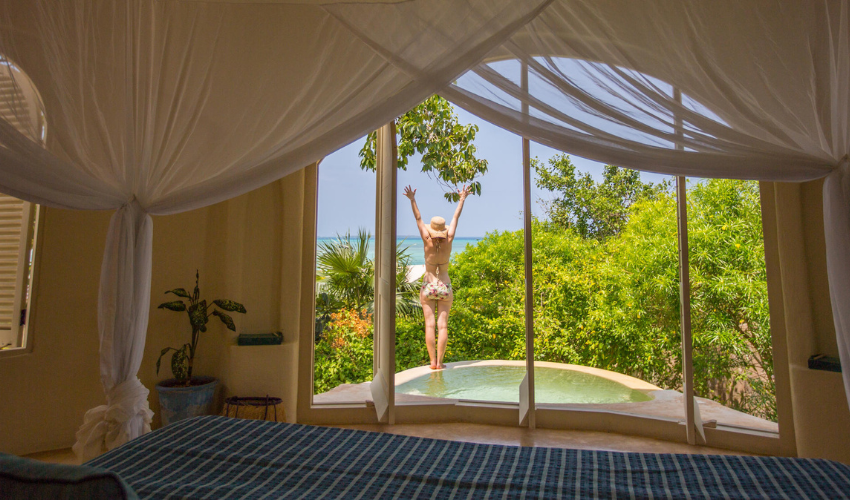 Zanzibar is a luxurious island destination with a rich history and cultural significance. Located off the coast of Tanzania, this tropical paradise is is also known as the 'Spice Island' due to the delicious variety of spices grown here. Guests traveling to Zanzibar can explore the World Heritage Site of Stone Town, a maze of winding streets, bustling markets, and ornately carved doors, have been uniquely shaped by Moorish, Middle Eastern, Indian and African influences. For nature lovers, the Jozani Forest Reserve is a must-see, home to rare species such as Kirk's red colobus monkey and Aders' duiker. Zanzibar is also home to luxurious spa resorts where guests can indulge and end their Tanzanian adventure feeling refreshed and rejuvenated.
Experience the ultimate East African bush and beach adventure with our Enchanting East Africa safari. Start your journey with a stay at the exquisite Giraffe Manor, where you can get up close and personal with these majestic animals. Then, head out into the Maasai Mara and Serengeti for an unparalleled wildlife experience, where you'll encounter a variety of exotic animals and marvel at the stunning natural beauty of East Africa. Finally, end your journey in the tropical paradise of Zanzibar, where you can relax on white sandy beaches and discover the secrets of this enchanting island.
Seychelles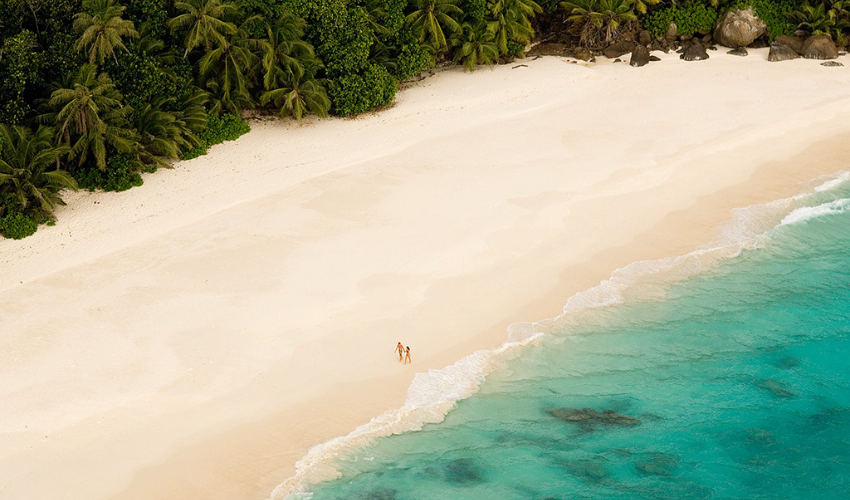 Escape to the stunning tropical paradise of the Seychelles, a group of jewel-like islands gleaming in the Indian Ocean. With palm trees bending over pristine white sand beaches and (in season) turtles nesting on deserted shores, this is the epitome of a tropical island getaway. Adventurous guests can try your luck searching for rumored pirate treasures rumored to be buried on various islands – the perfect opportunity to channel your inner Captain Jack Sparrow.
The Seychelles is the perfect add-on to a Kenyan safari with direct flights available from Nairobi. Once you arrive, consider staying at the luxurious and secluded Four Seasons Resort on the main island of Mahé, or take a helicopter flight over the sea (keeping an eye out for rays and dolphins) to the private North Island, a favorite honeymoon destination for royalty.
Mauritius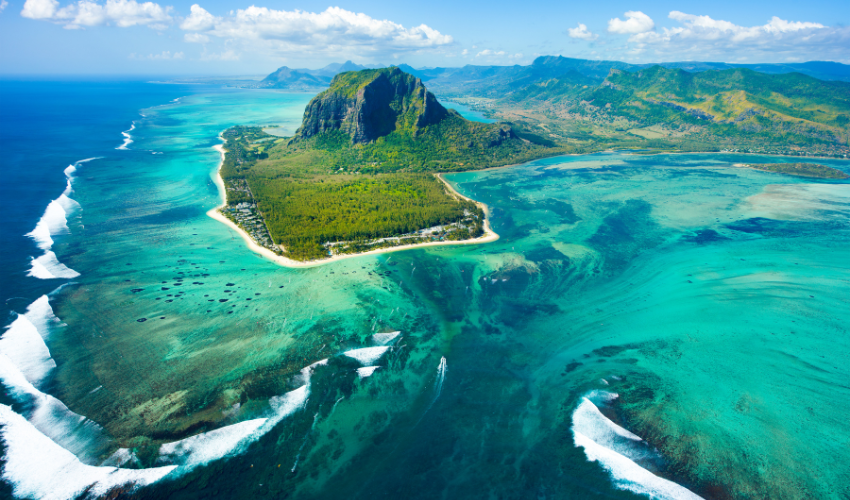 Mark Twain was right in saying that, 'Mauritius was made first, and then heaven, and that heaven was copied after Mauritius.' The tiny Indian Ocean island once the home of the flightless dodo, now extinct, offers guests white flour sand beaches, turquoise lagoons, rich culture and perfect weather. The island caters to adventure seekers, foodies, beachcombers, birdwatchers and hammock-dwellers alike.
Mauritius is easily accessible from Johannesburg. making the island a perfect destination to relax and rejuvenate after a Southern Africa safari. For the ultimate relaxation experience, we recommend staying at the stunningly luxurious Constance Prince Maurice or The Oberoi Beach Resort. Guests travelling later in 2023 can also experience the much loved LUX Belle Mare, which will be reopening in October after extensive renovations, taking the resort to new heights.
Madagascar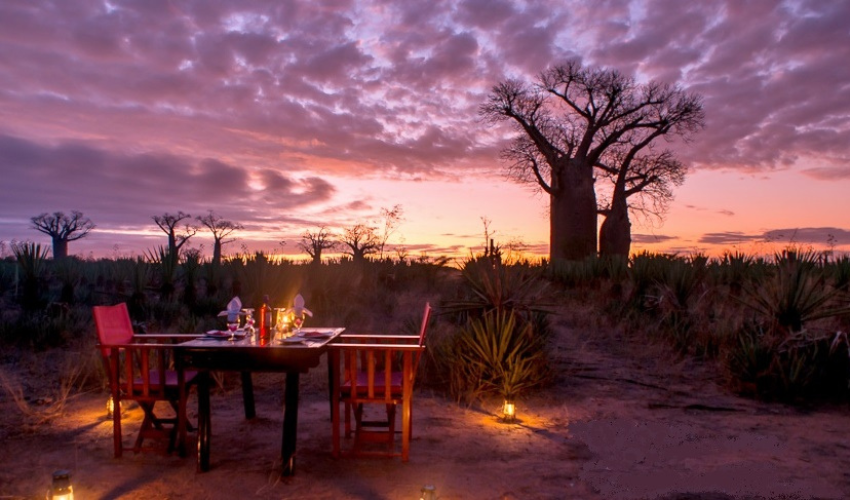 Rediscover your sense of wonder in one of the most unique, iconic and biodiverse places on earth. Explore exotic and magical land of lemurs and chameleons, marvel at the untouched coral reefs and rare marine life that surrounds you, or just relax together over champagne sundowners or a private beach picnic.
On our Magical Madagascar journey, guests will have the opportunity explore Andasibe National Park, home to a wide variety of native wildlife, including the indri, the largest surviving lemur species. Experience the beauty and other-worldly terrain of Mandrare River, where you can engage in a variety of authentic cultural activities, before witnessing an awe-inspiring sundowner surrounded by over 100 baobabs trees.
READY TO ADD AN ISLAND ESCAPE TO YOUR SAFARI?
Call 1-800-421-8907 or fill out our questionnaire and submit it to a specialist to plan a trip.