New, Custom Pride Safaris
August 20th, 2021, by Jonathan Brannan
African Travel, Inc., an award-winning, luxury safari outfitter focusing exclusively on Africa, has launched exceptional personalized journeys for the LGBTQ+ community including a new Southern Africa President's Safari.
President of Africa Travel, Inc., Sherwin Banda, who was recently featured as one of Robb Report's 16 LGBTQ+ Visionaries in Luxury in 2021, is excited about African Travel's focus on inclusivity and new journey.
"LGBTQ+ travel is personal for me, having grown up in Africa and lived through some of its most horrific times," said Banda. "Every one of our team members was either born in Africa, lived in Africa, or traveled to Africa multiple times, so when we say, 'We Know Africa,' you can depend on us to match the right Africa with the right client, like LGBTQ+ travelers."
Banda's trip was curated based on how travel needs change throughout one's life, whether you're single, married or a parent.
"Traveling when I was single is different than traveling with my partner and now with my family," Banda said. "I'm sharing how Africa has evolved, with the many wonders it has to offer for people of all ages and am very excited to invite other families to experience my homeland."
SOUTHERN AFRICA PRESIDENT'S SAFARI
The Southern Africa President's Safari explores southern Africa's bucket list highlights while also delving into the region's diverse culture, landscape, and wildlife. You'll discover Cape Town's unique sights – such as meeting African penguins and trying your hand at drumming at GOLD Restaurant – along with its scenic winelands. Spot the Big Five on a game drive or walking safari at Kapama Private Game Reserve and discover the breathtaking Victoria Falls in Zimbabwe while traversing down the Zambezi River. The safari is balanced with fun activities for explorers of all ages, including family-friendly accommodations.
PRIDE GUIDE
Beyond a family safari, African Travel has compiled other safari ideas to meet the different needs of various LGBTQ+ guests. The new Pride Guide , which includes the President's trip, offers travel tips that are available for all travellers.
The Pride Guide also includes safaris for different type of travelers. Art and culture lovers will be drawn to our Experience South Africa for its progressive access in Cape Town, meeting one-of-a-kind Ardmore artisans, and indulging in laid back luxury at iconic lodges and hotels. Travelers looking to explore Africa with friends, family or that special person, while also ticking off the Big 5, the Marine Big 5 and iconic landscapes, will enjoy South Africa's Natural Wonders.
Each safari features Africa's incredible wildlife and rich culture and is customized by a dedicated safari team- may which are LGBTQ+ - to every guest's interest and travel style. Personally vetted lodges and camps that focus on inclusion and sensitivity, along with our unique collection of sustainable, MAKE TRAVEL MATTER® experiences are always included.
With local offices in Africa and experts based across North America, African Travel's 24/7 concierge care ensures guest's well-being while safely traveling the continent.
For more information on African Travel Pride Safaris, visit https://africantravelinc.com/content/pride-safaris.
Contact our African Travel Specialists
800 421 8907
5 Unforgettable Elephant Experiences
August 6th, 2021, by Chelsea Todaro
The continent of Africa is home to a vital member of the world's ecosystem, elephants. The majestic and fascinating animals are an unforgettable part of any safari.
Elephants are famous for their large ears and muscular trunks. However, Safari lovers may not know about their important role in maintaining other species survival in Africa, which is why conserving them and celebrating their life is essential. There are many sustainable ways travelers can connect with elephants on safari.
Here are some of the most unforgettable elephant experiences and interesting facts about these diverse animals.
Protecting Kenya's Elephants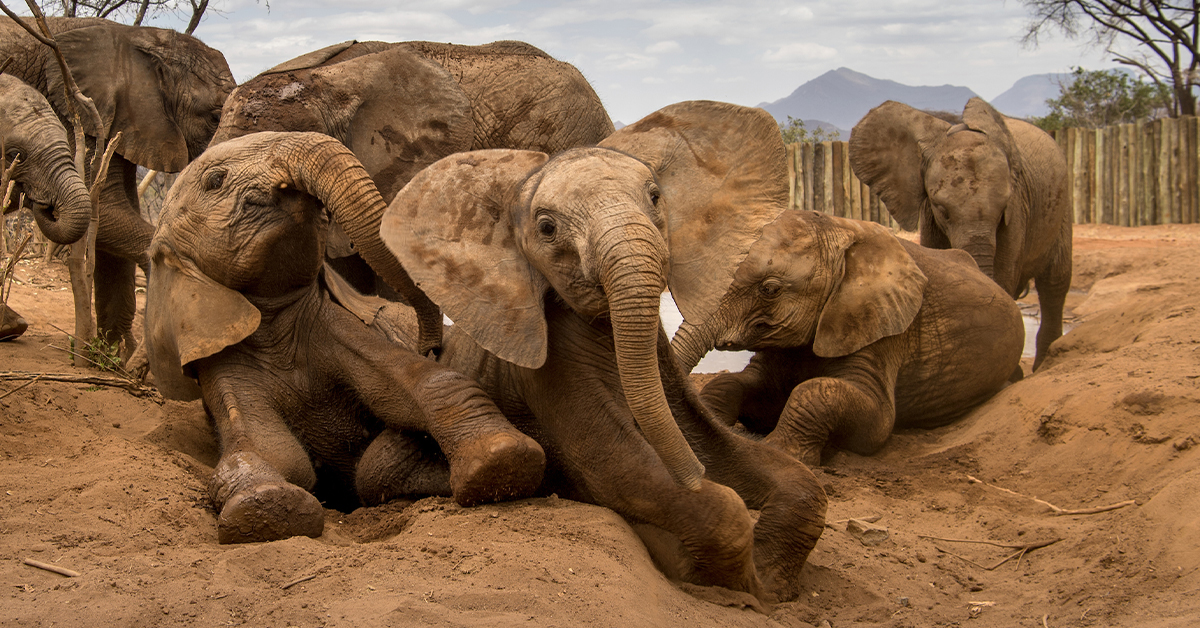 Protecting our elephant species is an important task for conservancies across Africa, particularly the Reteti Elephant Sanctuary at Namunyak Wildlife Conservancy, which is Kenya's first community owned and managed elephant orphanage.
You can get a behind the scenes tour of Reteti with an elephant keeper on our Captivating Kenya safari, watching the elephants receive their bottles and play in the mud, all the while learning valuable skills so that they might be re-introduced into the wild. You can also learn about the incredible efforts made at Reteti from Ami Vitale's short documentary film, Shaba.
Featured in Captivating Kenya and many other journeys, you can also visit the Sheldrick Wildlife Trust in Nairobi to learn about their elephant rescue and wildlife rehabilitation program, with the opportunity to sponsor and adopt an elephant - another great way to see conservation in action!
FUN FACT: The world's largest land mammal, elephants help Africa's wildlife kingdom thrive through their large diet of fruit that scatters seeds across the environment. They are constantly eating, and disperse plant matter more than any other animal on the African continent!
Photographer's Dream
At Kenya's Amboseli National Park roam a special species of elephants known for their enormous tusks, a great opportunity for photographers who can see these creatures with the gorgeous backdrop of Mount Kilimanjaro, which can be experienced on our World's Greatest Show and Safari.
Another special photo opportunity, you can get up close and personal with Jabulani's rescued resident herd of elephants on our South Africa Regal Retreat- perhaps during a sundowner with the colors of pink, yellow and orange hues? When guests book this safari or visit Jabulani on a tailor-made trip, contributions will be made towards fostering an elephant.
FUN FACT: Elephant tusks are enlarged teeth which first appear when elephants are around 2 years old. Their tusks continue growing throughout their lives.
Wonderful Water Safaris in Botswana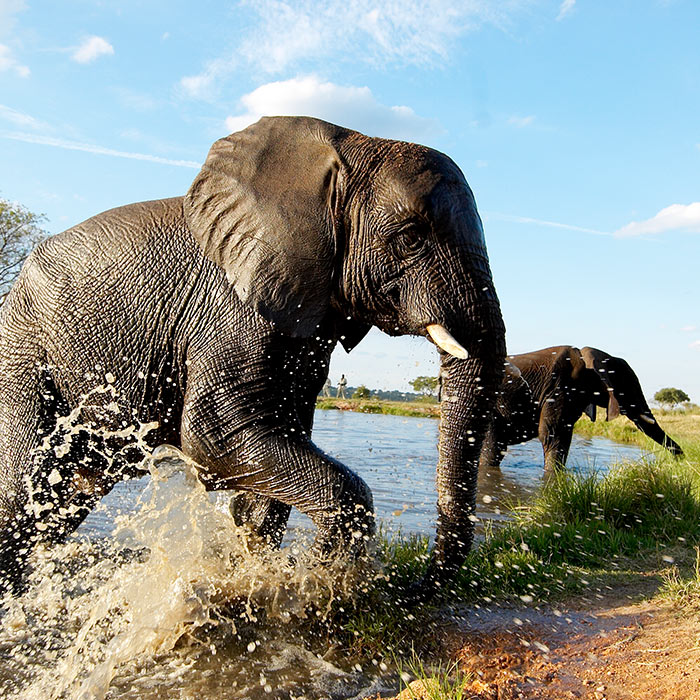 Elephants in Botswana are a sight to see as their massive population is supreme, outnumbering people in certain areas. Chobe National Park is home to the largest remaining population of African elephants, and you can see them passing frequently through camps.
Elephants are highly intelligent. The pristine herds in Botswana's Okavango Delta are not shy to humans, and some have been known to stand on their hind legs to reach for food in the trees. Vumbura Plains' raised wooden walkways connect all suites to the main camp providing you a great opportunity to see these incredible herds, as featured on our Connoisseur's Collection.
"Last time I was at Vumbura Plains an elephant helped itself to the clean water in my plunge pool, as I sat on the deck just a few feet away. The walkways will occasionally dip down to ground level in areas where elephant frequently walk to allow them to pass through camp unobstructed. I was told to pause and look both ways before crossing those spots because elephant have the right of way." – Susannah Zani
Walking With Elephants in Zambia
Zambia is the birthplace of the walking safari, and what better way to explore elephants than with them on foot? The remote South Luangwa National Park is 5,000 square miles and is considered one of Africa's last true wildernesses – and probably Southern Africa's best kept secret.
The intimate bush camp, Mfuwe Lodge, featured on our Zambia Leopards, Lions and Tiger Fish, is famous for its family of elephants walking through the lobby and reception area!
"They do it every year as the wild mango fruit ripen, carefully passing through the lodges reception area to make their way to the courtyard at the center of the property." – Susannah Zani
FUN FACT: Elephants can communicate through vibrations they create in the ground, which can be detected through their bones.
Namibia's Desert Adapted Elephants
Namibia is a special place to see a unique herd of desert-dwelling elephants. Estimated to only consist of 150, this small group of elephants have made their home in the Namib desert developing adaptations to the extreme temperatures and terrain.
On our Deserts and Dunes of Namibia you'll spot these special herds during game drives in Kaokoland through the sandy terrain. The intimate Hoanib Valley Camp blends seamlessly with the environment allowing rangers to track these endangered elephants.
FUN FACT: An elephant's skin is 2.5cm thick. The folds and wrinkles in their skin can retain up to 10 times more water, which helps to cool them down.
Contact our African Travel Specialists
800 421 8907
Best End of the Year Safaris
August 5th, 2021, by Chelsea Todaro
Now is a rare time to visit Africa like few will see. While there remain some hoops to jump through to get to Africa, the rewards are endless, with less crowds, Africans eager to welcome guests and alluring experiences unique to Africa's spring and summer. The African Travel team is on top of the details and will guide you through everything, so you don't have to stress about the logistics of COVID-19 restrictions and requirements.
This month we share our experts' recommendations for safaris to take at the end of this year:
Game Viewing Value in The Green Season
From September to December, parts of southern and east Africa go through its rainy "green season" offering incredible photography opportunities of wildlife and colorful landscapes with less crowds.
With the rains of Africa comes blossoming flowers, thousands of migrant birds, and ideal breeding grounds for wildlife. The Green Season varies in Africa - East Africa is best for the end of the year, occurring in from September to December, with Southern Africa from December to March.
Our experts recommend Treasures of Tanzania in the Green Season where guests explore Tarangire National Park, a unique safari backdrop with rolling grasslands and forests of enigmatic baobab trees, while also descending into the Ngorongoro Crater.
TIP: Both Kenya and Tanzania hold exceptional game viewing at this time, as baby animals roam the grassy plains. Try our Enchanting East Africa safari for the best of both worlds, with an island retreat to Zanzibar for a relaxing ending.
SOLO TRAVEL: For those looking to take a solo adventure, our Tanzania Explorer is a great option with no single supplement for 2021 and 2022 departures.
Explore Egypt in Luxury, Without the Heat
Many travelers think of Africa for amazing game drives, but there is also "the cradle of ancient civilization" to explore in Egypt. Consider travel at the end of the year when guests miss the scorching heat – and enjoy mild to cool temperatures. A trip to Egypt also pairs well with a pre or post safaris, to give you a taste of Africa's vastly different worlds.
Our Royal Egyptian takes in Cairo and the pyramids with a luxurious cruise on the Nile River, visiting the Valley of the Kings, Karnak and Aswan. A private Egyptologist guide shares personal insights and remarkable details.
Can't travel in 2021? We have also launched new group dates on a new Wonders of Egypt journey where guests enjoy a private Luxor tour far from the crowds.
TIP: For explorations of Africa's rich game viewing and ancient lands, choose our Cape to Cairo safari, visiting Cape Town, Victoria Falls, Kenya's Maasai Mara, and the towering Great Pyramids of Egypt.
Adventure in Southern Africa
Towards the end of the year, South Africa's springtime boasts beautiful blooms that take your breath away. For adventure enthusiasts our experts recommend Exploring Southern Africa, which artfully combines Cape Town and Kruger National with the majesty of Victoria Falls.
Victoria Falls may have less water during the end of the year, but it's the perfect time for adventure activities like a visit to Devils Pool, a natural rock pool on a ledge right at the edge of Victoria Falls, and a wildlife sighting hotspot where many animals look for water.
TIP: While hitting the highlights of South Africa and Victoria Falls in 2021, guests enjoy an extra 10% savings on this crowd-pleasing safari. Our customize our most popular safari, Southern Explorer.
Botswana's Secret Migration
From September to November, Botswana undergoes the start of second "secret" migration when things begin to green, just before the heat arrives in December. If you like the heat and great savings, then December is a possible option too. Our Last Refuge is a connoisseur's safari collection showcasing Botswana's different elements, from the thriving elephants and hippos of the immense Okavango Delta to the Kalahari Desert's ancient baobabs. Not to mention a spectacular stay at the new and renowned 1940's-style Jack's Camp - one of Africa's most iconic camps that's just one of three in the Makgadikgadi Salt Pans one-million-acre private wildlife reserve. Our favorite experience here is watching pixie-faced meerkats emerging from their burrow at sun rise.
TIP: Another great incentive for end of year travel, save up $2,790 per person on this safari for 2021 departures, with a 10% savings applied at the time of your booking.
Contact our African Travel Specialists
800 421 8907