Why Kenya
Home to the Great Migration and the Maasai Mara, Kenya is a top destination for safari lovers. With a wealth of wildlife, each diverse area has its own allure.
Kenya is the birthplace of the safari and perfect for year-round game viewing. Here you will find Africa's oldest national park and conservancies leading the way in protecting cultures and wildlife. With a diversity of large predators and rare species, its best to combine a few areas. Enjoy the beauty of Amboseli's large tusked elephants, marvel at Mount Kilimanjaro, and see animals found only in Samburu and Shaba National Reserves.
Quick Info

Where to Stay: Follow the wildebeest migration staying at mobile tented camps or stay at lodges and private villas that capture the essence of a bygone era.

Game Viewing: Follow the Great Migration in the Maasai Mara, spot wildlife found only north of the equator, and Big 5 game viewing in national parks and conservancies. Add on gorilla trekking in nearby Rwanda.

Getting Around: Kenya has frequent internal air options for convenient travel to the top safari locations and beaches. Transfers are in pop-up roof mini buses and game drives are in open sided 4x4.

Highlights: Sleep in stargazing beds, take a hot air balloon safari, have breakfast in the bush, follow the wildebeest migration, and enjoy beautiful beaches.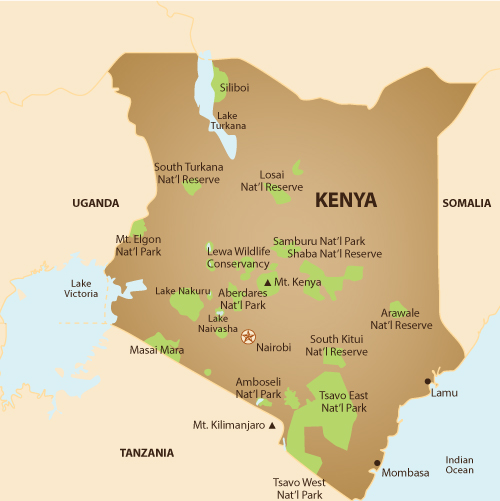 Weather

HI/LoF

Rainfall
ARRIVED
by Helen Hayes
An African first: Female keepers keep watch over gentle giants.
Read More
Kicking Elephant-Sized Goals