Why Morocco
Discover the captivating allure of Morocco, where dazzling diversity and unforgettable experiences await. From epic mountain ranges to vast sweeping deserts and ancient cities steeped in history, Morocco is a treasure trove of wonders.
Morocco's allure lies in its extraordinary blend of ancient civilizations and vibrant modernity. Discover the iconic wonders of Morocco, from the historic medinas of Marrakech and Fes to the architectural marvels of Casablanca. Immerse yourself in the cultural tapestry of vibrant souks, tranquil riads, and captivating traditions. Journey through time as you explore ancient ruins, traverse the High Atlas mountains, and witness the stunning beauty of the Sahara Desert. Morocco beckons with a mesmerizing blend of history, adventure, and warm hospitality.
Quick Info

Where to Stay: From charming boutique riads, traditional houses built around an interior garden or courtyard, to exclusive desert camps and modern city resorts, indulge in elegance, seclusion, and impeccable service.

Getting Around: Transfers are in chauffeured or mini-coach air-conditioned vehicles.

Highlights: Get lost in lively markets, trek the desert, and discover remote waterfalls. Bask in beach days, sip mint tea in medinas, and sleep under stars in luxury desert camps. Unearth ancient history, explore Casablanca's architecture, and savor farm-to-table cuisine. Wander Fes' UNESCO-listed medina and immerse in the High Atlas' natural beauty. Experience Marrakech's red walls, palaces, souks, and luxurious amenities.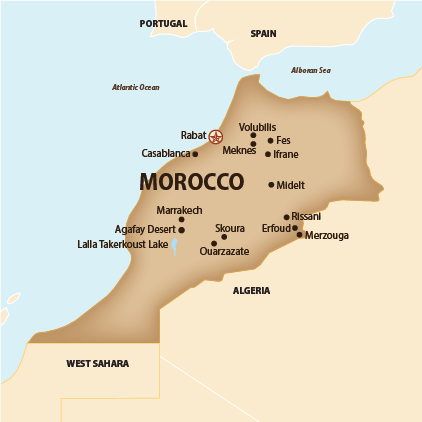 Weather

HI/LoF

Rainfall