Why Seychelles
An unspoiled tropical paradise, the group of Seychelles islands hold some of the most exciting coastal scenery in the world and complements an African safari experience perfectly.
A tropical haven, Seychelles boasts palm-fringed beaches and crystal-clear topaz seas for ultimate relaxation. Mahe, the largest and most populated island, is surrounded by coral reefs. Take a guided excursion to explore the fascinating coastal scenery. Stroll through the Botanical Gardens in Victoria to see the coco de mer palms, orchids and giant tortoises. Enjoy walks into the island's center to see forests, coconut, cinnamon and vanilla plantations. Gaze at magnificent views of the smaller islands and coastline.
Quick Info

Where to Stay: Home to some of the most exclusive, luxurious and private accommodations, ranging from secluded beach-front villas to private island resorts and charming boutique hotels.

Game Viewing: See the largest population of giant tortoises in the world, spot bottlenose dolphins near Bird Island, seasonal whales.

Getting Around: Charter flights, fast catamarans and helicopters whisk guests between the islands. Explore the island on foot bike as the distances are short.

Highlights: Explore Victoria's Creole restaurants, art galleries, shops, and markets, search for buried treasure at Bel Ombre, St. Anne Marine National Park or the caves of Silhouette Island.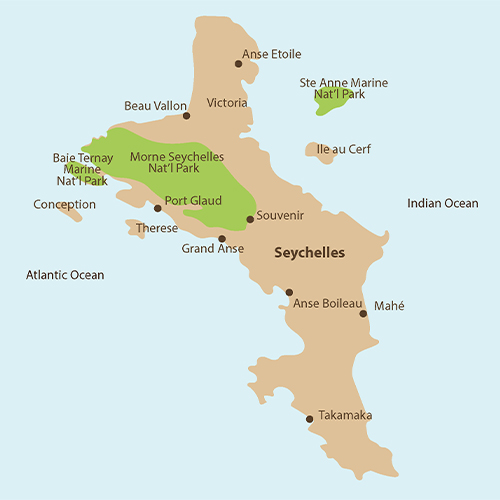 Weather

HI/LoF

Rainfall