Why Egypt
Discover worlds of wonder dating back to ancient times, from the great pyramids, mysterious temples, to the anomaly of Petra and the Dead Sea.
Egypt and Jordan hold mysterious allure through its ancient civilizations. Discover Egypt's wondrous worlds, see the Sphinx, Pyramids of Giza and The Great Pyramid of Cheops. Explore Cairo's vibrant scene, mixing modern, ancient, Christian and Muslim cultures. Jordan's historic towns hold artifacts from biblical times, like Madaba's mosaic map of the Holy Land, Petra's "Rose City" carved into the cliffs and the Dead Sea.
Quick Info

Where to Stay: Luxurious hotels are rubbing shoulders with historic mosques and museums. Cruise the fabled Nile in style on the River Tosca or S.S. Sphinx.

Getting Around: Scheduled flights and private transfers. Board the elegant River Tosca or S.S. Sphinx disembarking at iconic sites.

Highlights: Explore Luxor and Valley of the Kings. Tour the Grand Egyptian Museum, visit Iraq Al Amir Women's Cooperative and Mount Nebo.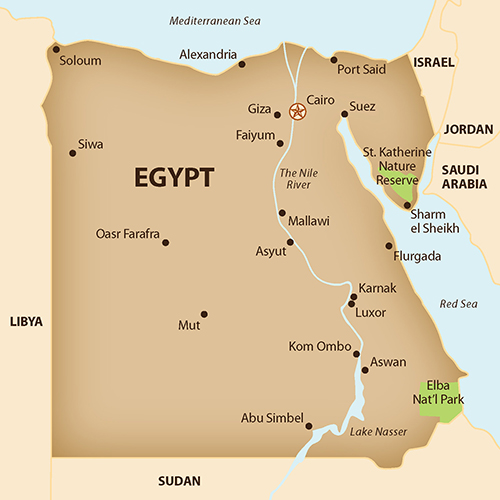 Weather

HI/LoF

Rainfall