Why Madagascar
Explore "the eighth continent" of the world for its epic biodiversity, untouched beaches and rich wildlife you will only see on this exotic island.
Madagascar holds 5% of the world's wildlife and vegetation. Its landscapes are incredibly diverse, from deserts to rainforests to dazzling beaches. The country's coastlines hold some of the world's best snorkeling and diving sites. Venture to central Madagascar's lively cities filled with historical monuments. The mysterious Island of Eden is a best-kept secret for unexplored coral reefs.
Quick Info

Where to Stay: Accommodations range from luxury properties to family run guesthouses and boutique hotels in restored historic buildings.

Game Viewing: Day and night forest walks to view more than a dozen lemur species; Spot unique species of mammals, reptiles and birds in Mantadia National Park and the Mandrare River.

Getting Around: Internal flights are available to transfer between destinations. Private road transfers and tours are conducted in 4x4 vehicles with a local guide.

Highlights: Visit the marketplace at Mandrare River, mingle with villagers, kayak at Manafiafy Beach, seasonal whale watching, secluded island picnics, snorkel at sheltered bays, marvel at orchids, delight in sundowners among baobabs.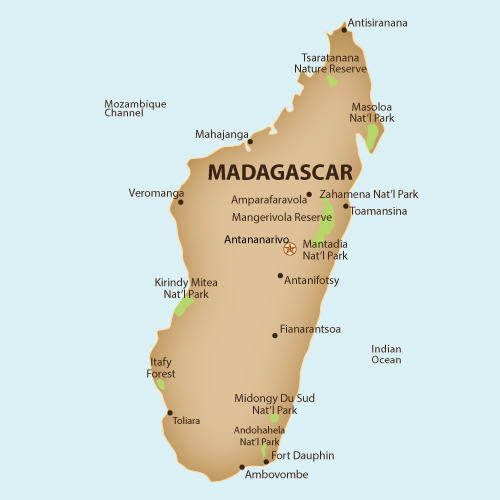 Weather

HI/LoF

Rainfall
Madagascar Tours
Step into the magical world of Madagascar. This active adventure takes you in search of camouflaged chameleons, multiple species of the island's signature lemurs, prized orchids and brilliantly-plumed birds.