WE KNOW AFRICA
Welcome to the African Travel safari blog. In this space, we share inspirational stories and ideas on adventures in Africa, plus our latest social posts!
Gorilla Trekking in Rwanda
January 9th, 2018, by Lucille Sive
An Unforgettable Experience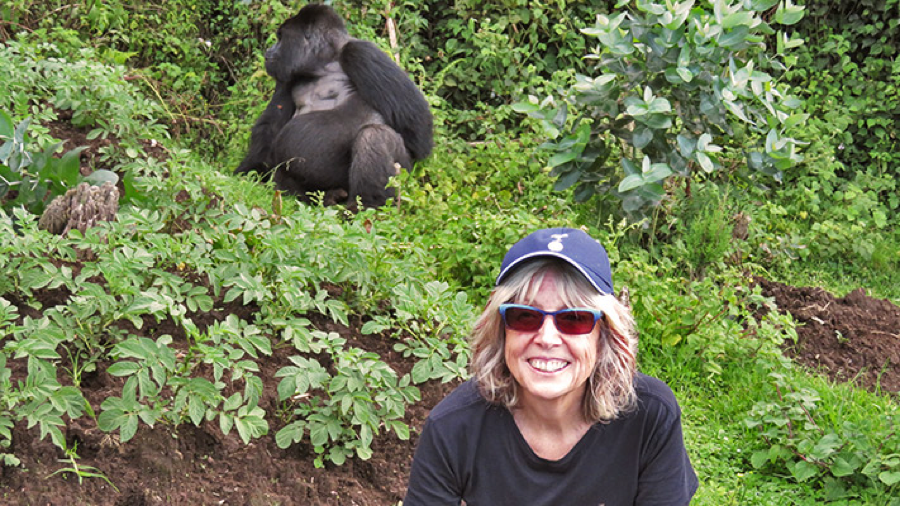 On my most recent trip to Africa, I realized one of my dreams: trekking with the mountain gorillas of Rwanda. These gentle creatures are stunning to behold and I feel privileged to have seen them in their natural habitat. As an experienced African traveler, I am no stranger to the majesty of Africa: from the spectacular Victoria Falls to the extraordinary animals such as elephants, lions, leopards and more, Africa is truly a destination of wonders. Even those incredible experiences, however, did not prepare me for my time with the mountain gorillas of Rwanda, a magical experience I am delighted to share with you now.
Prepping for the Gorilla Trek
The morning of our trek, we met our guide, Bosco, who would be leading us through the wilderness of Volcanoes National Park to meet our family of gorillas. Before we left, Bosco talked about the importance of our trek to the sustainability of the species. Mountain gorillas are critically endangered: researchers estimate that as few as 880 remain in the wilds of Africa. To ensure that the population of these beautiful creatures continues to thrive, the Rwandan government strictly limits the amount of Gorilla interactions available for tourists—only 80 gorilla trek permits are available per day in the country. This approach has two major benefits: the funds from the limited permits go directly to gorilla conservation initiatives and the small number of permits minimizes the human impact on the gorillas themselves. Additionally, the Rwandan government reimburses farmers and property owners whose trees are damaged or destroyed by the mountain gorillas, ensuring that the gorillas can roam freely without conflict.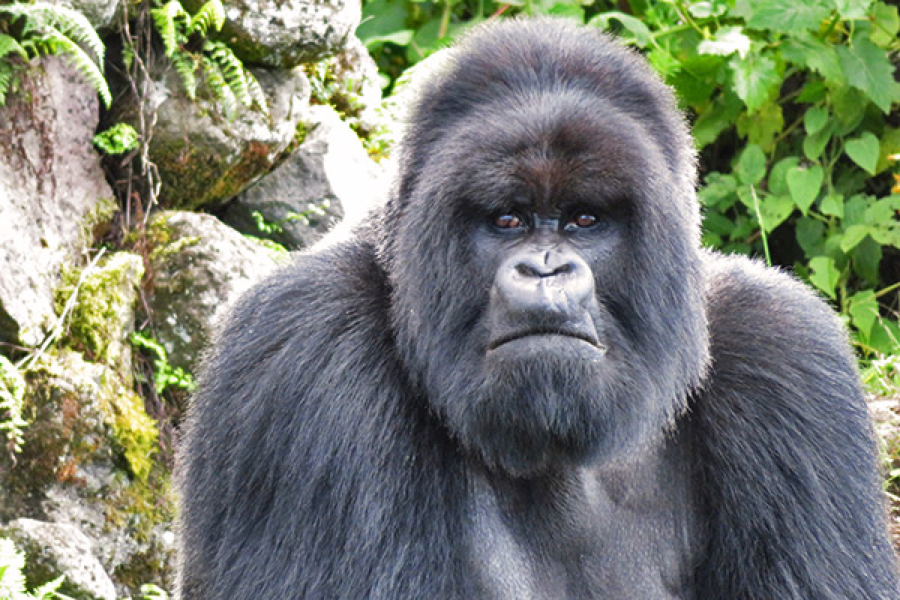 Bosco introduced us to the "Hirwa" gorilla clan, the family we would be meeting. The family is so named because "Hirwa" means lucky, which refers to the family's good fortune: they have grown to a clan of 20 members, including a pair of juvenile twins—a rare occurrence in the wild.
We were also given basic rules for how to approach the family: avoid eye contact, stay alert, be quiet, disable flash on our cameras and keep our distance from the family. Bosco emphasized that our goal, beyond observing this amazing species, was to interrupt the Hirwa family as little as possible.
Meeting the Gorillas
It didn't take long for us make contact with the gorillas. We hiked for about 30 minutes before Bosco told us that the clan was just ahead, outside a farmer's field. There was a palpable excitement in the air as I, and others in our group, readied our cameras in anticipation of what we were about to see. As we reached the top of the field, we caught our first glimpse of the clan: they were busily munching on bamboo trees.
The duration of their lunch was clear thanks to the trail of gnawed bamboo trees. The Hirwa family included a silverback, adult females and a few babies. The adorable babies were on full display: playing with mom, frolicking in the bushes and even beating their chests in a adorable impression of their silverback father. My favourite gorilla baby, however, tried his hardest to feed on a bamboo tree all by himself. The tree was just a little too thick!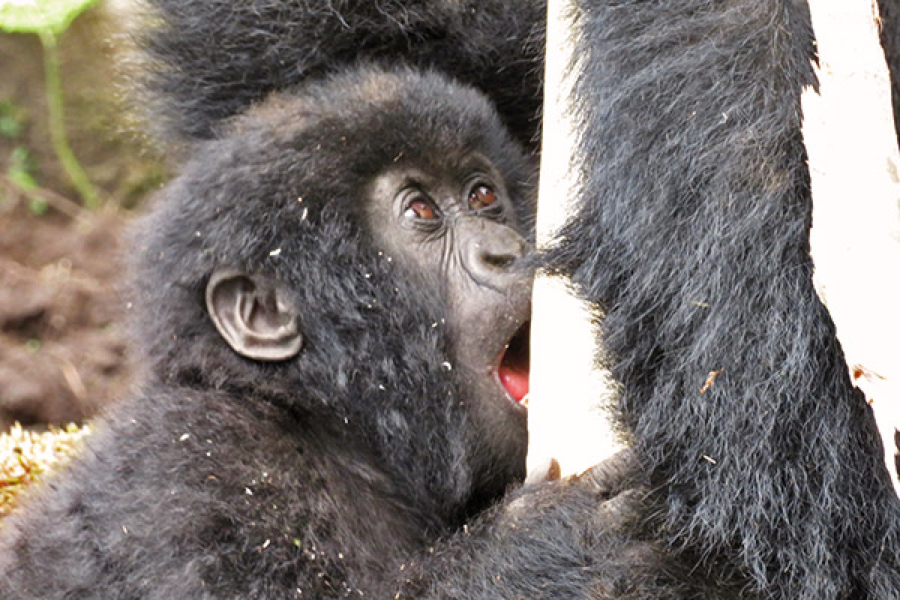 The size of the adult members of the Hirwa family astonished me. Male silverbacks, the largest members in a family, can weigh up to 480 pounds and the silverback of the Hirwa family was massive! As the other members of the family were busy eating and playing, he mostly sat alone in the background, quietly watching over his family. At one point, while I was watching some of the other gorillas, the silverback approached me—it appeared that I was between him and where he wanted to go. I looked to Bosco who told me to stay calm and let the large silverback walk by, and that's exactly what he did: the silverback brushed by my leg on his way to munch on some bamboo shoots.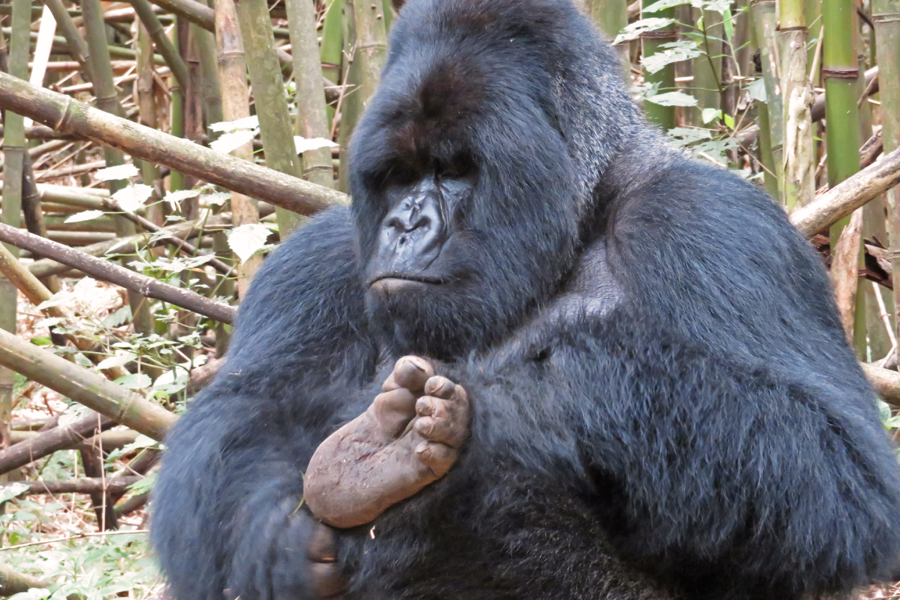 During my time with the gorillas, I could not get over their likeness to humans. With no border or fence between us, watching them felt in some ways like looking into a mirror. Gorillas share 98 percent of their DNA with humans, and the evidence was right in front of me as I closely observed their all too familiar gestures, mannerisms and behaviours.
Dian Fossey, author of Gorillas in the Mist and the famous mountain gorilla researcher, once remarked, "when you realize the value of all life, you dwell less on what is past and concentrate on the preservation of the future." I could not have said it better myself! My experience with the gorillas reinforced my feelings that conserving these creatures for future generations is a crucial mission, one that benefits us all. If you are considering visiting Rwanda to see the mountain gorillas, I absolutely recommend it. The experience was unforgettable and I will always cherish my time with the Hirwa family.
View our Ultimate Rwanda itinerary to learn more about the gorilla trekking experience.
Top 8 Culinary Experiences in South Africa
December 4th, 2017, by Sherwin Banda
Top 8 Culinary Experiences in South Africa
African Travel, Inc. asked their wonderful safari specialists for their favorite culinary experiences in South Africa and a below is a list of their top 8.
1. The Test Kitchen
The Test Kitchen, which opened in November 2010, has the celebrated Luke Dale-Roberts cooking at his most creative in a distinctive contemporary space. The Test Kitchen, as its name implies, affords Luke the opportunity for maximum innovation as a chef and the dishes are a pure reflection of his creativity with flavors and ingredients.
2. Constantia Valley
The Constantia Valley is the oldest wine producing region in South Africa, with a history of wine making that spans over 300 years. Some of the finest vineyards can be found in the valley, including Groot Constantia, Buitenverwachting, Constantia Uitsig, Klein Constantia, Steenberg to name a few. It is also home to some of Cape Town's finest eateries, ranging from established favorites to hot, new restaurants. There is something for everyone. La Colombe on Silvermist Wine Estate is positioned among the top restaurants in the world. The Greenhouse at Cellars Hohenhort consistently elevates the benchmark of modern South African cuisine. Foxcroft offers a laidback fine dining experience, while Chefs Warehouse at Beau Constantia, offers cutting edge cuisine. Bistro Sixteen 82 at Steenberg is another stalwart on the Cape Town dining scene, known for its innovative tapas and bistro-style dining.
3. Stellenbosch
Established in 1679, Stellenbosch is the second oldest town in South Africa and is arguably one of the loveliest. Taking the "Bites & Sites Classic Cape Cuisine Walk" is a fascinating (and tasty!) introduction to this vibrant university town. Enjoy a tea and rusk tasting, sample a variety of white and red wines from various award-winning estates, savor a trilogy of fragrant Cape dishes, and experience the legendary local sweet treats like koeksister, milktart and malva pudding – all while touring the town's romantic oak-lined streets and outdoor art exhibitions.
4. Farmers' Markets
Capetonians love a great outdoor market, and the pop up markets are a celebration of local foods, culture and community. Spend a relaxing morning or afternoon, mingling with the locals, at one of the city's most popular weekly affairs. The markets have something for everyone, with specialty traders ranging from local farmers, fine-food purveyors, organic merchants, to celebrated local chefs. Taste your way through freshly baked breads, organic vegetables, handcrafted cheese, sausage, wine, chocolate, craft beer and more.
5. Cooking with Cass Abrahams
A half day Cape Malay cooking experience with Cass Abrahams. Cass is a local chef and authority on Cape Malay cuisine. During her career she has travelled the world showcasing South African fare, ran restaurants and written cookbooks. She has made it her mission to rescue the traditional recipes and share her passion and pride with those seeking a deeper understanding of the local food culture. During a "hands-on" experience in her home you will have an introductory talk on the history of the cuisine and the many spices used, followed by the preparation of several dishes. Then it's time to sit back, relax, and appreciate your handiwork as you enjoy lunch.
6. Babylonstoren
Babylonstoren is one of the oldest Cape Dutch farms. The garden is at the heart of the farm, and is laid out over 8 acres, and divided into sections of fruit, vegetables, berries, bees for pollinating, indigenous plants, fragrant lawns, a prickly pear maze, ducks and chickens, and more. Every aspect of Babylonstoren is led by the ever-changing tapestry and botanical diversity of the garden. With a farm-to-fork philosophy, the menus are guided by what is available in the garden, and always reflects the season.
7. Bread & Wine Vineyard Restaurant
Set in the Moreson Winery, Bread & Wine Vineyard Restaurant is a staff favorite due to its rustic charm and laid-back atmosphere. Gorgeous trees provide a shaded retreat to enjoy the exquisite food, including the best charcuterie in South Africa hands down.
8. The Twelve Apostles Hotel & Spa Azure Restaurant
The Twelve Apostles is home to the award-winning Azure Restaurant and its magical international and indigenous cuisine. Overlooking the Pacific Ocean, the incredible views are some of the Mother City's best and it is an overwhelming staff favorite for sundowners and sunsets. Whales can often be spotted in the mornings and afternoons, breaching right off the coast. Azure offers a high-end selection of entrees, including seafood, meats, and local African cuisine. From the delicate fresh oysters to the massive seafood platter, guests' taste buds are infused by the finest organic ingredients and brilliant flavor combinations.
Introducing our new 2018 brochure...
October 19th, 2017, by Katherine Watts
We're excited to unveil our new 2018 brochure featuring handcrafted, luxury safari experiences. These journeys immerse you in the unique wildlife, wonderful cuisine and authentic cultures of southern and eastern Africa. We encourage you to request your own copy so that you can begin to plan the safari of your dreams.
Request a brochure here.
---
New trips for 2018 include:
Majestic South Africa: This thrilling 10-day experience includes four nights in Cape Town and three nights at Shamwari Game Reserve. Guests explore the vibrant sights, sounds and flavors of the "Mother City," and spend their nights at the luxurious five-star Table Bay Hotel. Then they move on to Shamwari, where twice-daily game drives and nature walks provide plenty of opportunities to see big game such as rhinos, elephants, hippos, kudu, gemsbok, wildebeest, zebras, and hyenas, plus smaller animals and unique plant life.
---
Enchanting East Africa: This 11-day odyssey shows guests the urban pleasures of Nairobi, the iconic game reserves of Kenya and Tanzania, and the exotic spice island of Zanzibar. Guests start in Nairobi, where they stay at the famed Giraffe Manor and visit an elephant orphanage before heading off for five glorious days of game drives at Maasai Mara National Park and Serengeti National Park. Then it's on to Zanzibar for a blissful seaside stay, and two days of relaxation and exploration of the island's captivating architecture, food and sea life.
---
Ultimate South Africa with Victoria Falls: This stunning 11-day odyssey is the ultimate sensory journey, offering cosmopolitan exploration, wildlife viewing, and a visit to a bucket-list icon. Highlights include a helicopter ride over the stunning Cape Town skyline, wine tasting in the South African winelands, Big Five game viewing at Lion Sands Reserve and exploration of the breathtaking Victoria Falls. Along the way guests stay in stylish, exclusive surrounds at Lion Sands Ivory Lodge, the five-star Silo Hotel in Cape Town, and the magnificent treehouse suites at Victoria Falls River Lodge.