5 REASONS TO VISIT BOTSWANA
Botswana sets a gold standard in Africa for sustainability and exclusivity among nature and wildlife. From the thriving waterways of the Okavango Delta, to the Kalahari Desert's ancient baobabs and meerkats and the elephants' paradise of Chobe National Park, Botswana truly delivers unmatched wildlife safari experiences.
The camp sizes and the number of guests is highly restricted, making for a very intimate experience. It's also a perfect destination for adventure minded nature lovers who are looking to escape into one of the most pristine and healthiest wildlife ecosystems on earth. There's an incredible range of land and water safari experiences and you disconnect from the modern world. ​
While Africa's wide-open spaces will be on people's bucket this year, these are five reasons why Botswana should be your next 'it' safari wildlife spot.
1. Botswana's Bold New Xigera Safari Lodge
All lodges and camps in Botswana have highly restricted capacities, creating a much more exclusive experience for guests. One of the most highly regarded and most exclusive is the new Xigera Safari Lodge, set in the heart of the Okavango Delta. Earn your bragging rights and experience it first-hand.
Xigera is 100 percent solar powered and built as a personal love letter to the African bush. The property has been meticulously designed to be in complete synergy with its surroundings. The 12 suites sit on their very own private area of the Moremi Game Reserve with exclusive access to the wilderness. Each suite floats delicately above the water, allowing wildlife to pass uninterruptedly beneath. The interiors are filled with exceptional one-off works of art and design created by Africa's most globally recognized names.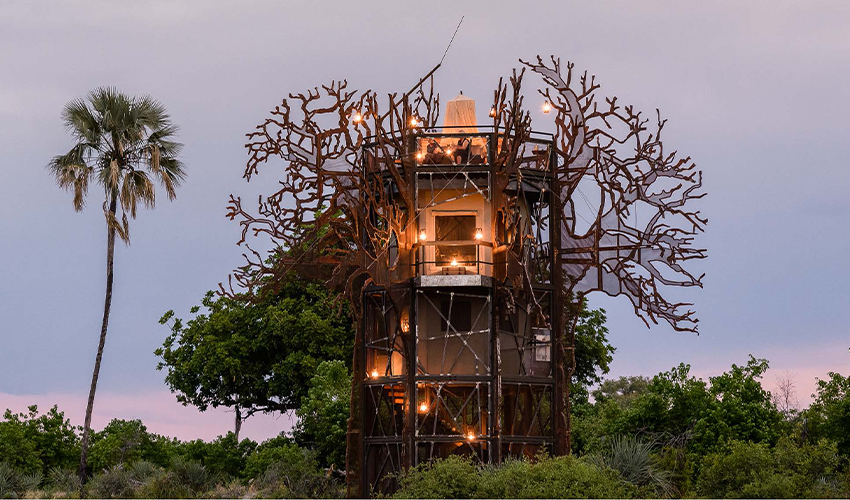 There are no set times, no itineraries, just the unique chance of exploring the bush at a personalized pace. One-of-a-kind activities are carefully tailored to guests' interests, from exploring the bush on a thrilling photographic game drive, or on foot with their wonderful guides, to discovering the Okavango's most remote waterways by boat culminating in feet-in-the-water sundowners. The boma, circling a fire pit sculpture by Conrad Hicks, allows al fresco meals beneath a blanket of stars or you can stay the night in the unique Baobab Treehouse listening to the sounds of the bush.
2. Water Safaris are Supreme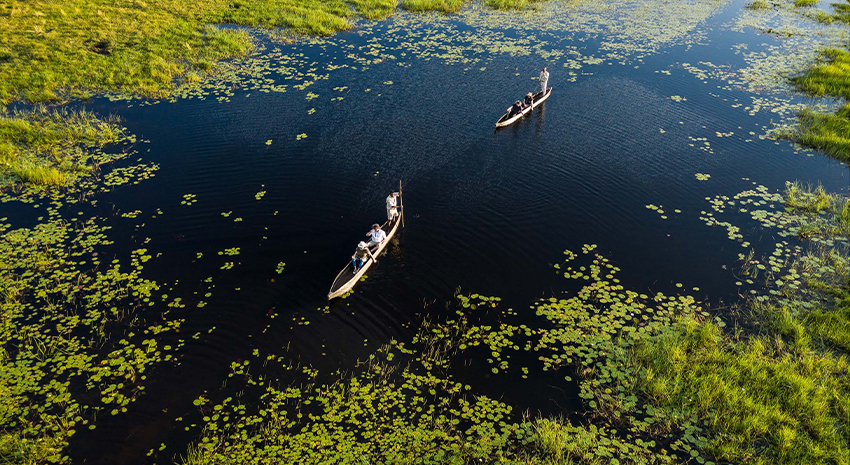 Water is the source of life for the animals in Botswana and our Ultimate Botswana Safari allows you to get out of the jeep and try something new. One of the most unique water safari experiences is taking a mokoro ride in one of the world's largest inland water systems. Sitting lower than a traditional canoe, a mokoro is the equivalent to an African Gondola. At Xigera you can ride in the first of its kind, glass bottomed mokoro. Sit back and relax as you glide through lily ponds while seeing eye to eye with buffalo or a pod of hippos.
Linyanti Wildlife Reserve bordering Chobe National Park is another exciting destination on the safari and two camps that have been recently renovated are especially appealing. Set on a lagoon on the Linyati River between two "elephant highways" the newly renovated DumaTau allows a wonderful opportunity to get close to nature and observe the smaller things. For bird lovers, a visit to King's Pool is ideal, as its location along the river attracts a numerous species of birds and is also a magnet for other game. No matter where you stay don't miss a Queen Silvia barge cruise, spy wildlife from a sunken hide, slow the pace and try catch and release fishing and visit the ancient Savute Channel.
3. Old-world Glamour in an Otherworldly Desert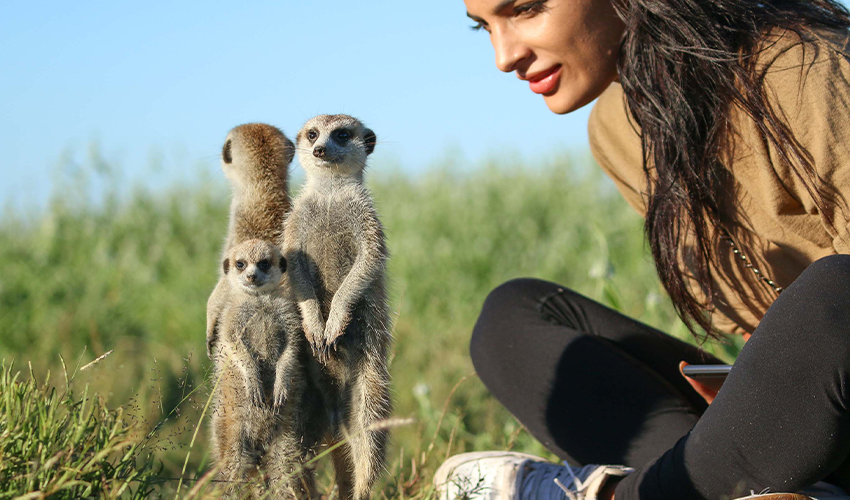 While there is abundant wildlife in the wet marshes and plains of Botswana, it's an entirely different world in the Makgadikgadi Pans and Kalahari Desert. Leopards, black-maned lions, aardvark, honey badger, the reclusive brown hyaena, bat-eared and Cape fox, and an abundant cheetah population are among popular residents in the Central Kalahari Game Reserve. Here join a "Bushman Walk" with Kalahari Bushman trackers to learn about their fascinating culture. Various Bushmen clans have thrived in this area for centuries. The stargazing in the Kalahari is unforgettable. A guide can take you on a tour through the constellations while you sleep out on your roof under the starry skies, being lulled to sleep by the sounds of Africa.
To explore the Kalahari Desert consider the Platinum Botswana safari and basing yourself in the Makgadikgadi Pans. The storied and iconic Jack's Camp is fashioned in a classical 1940's style and has one of the most comprehensive collections of ancient artifacts in Botswana. The surrounding area features abundant lion, zebra and wildebeest, leopard, cheetah, Brown and Spotted hyena- but the best wildlife experience is the habituation program with meerkats. Wake up early in the morning and walk to their borough to watch them appear to warm their bellies in the cool morning. TIP: Be patient and sit still. Eventually the meerkats will feel comfortable to come out and you can observe them go about their business.
4. The Circle of Life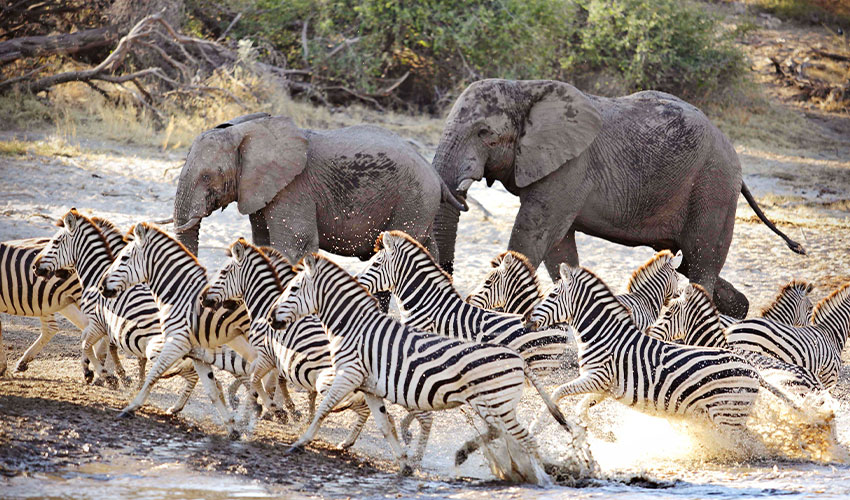 From November to April is Botswana's green season and animals are on the move. Africa's second largest migration of wildebeest and zebra happens here with thousands of zebra and blue wildebeest feasting on sweet summer grasses. There are also large concentrations of gemsbok, springbok and red hartebeest and their newborn calves, who are followed by predators such as lion, cheetah and black-backed jackal. Witnessing this spectacle from the air is magnificent.
The dry season from June to October is another spectacular time to visit with animals gathering around the waterhole. This makes wildlife spotting easier. It is also prime time for boating and mokoros especially in the Okavango Delta. On Botswana's northern border, Chobe National Park is known for its endless herds of elephants, which is said to exceed 200,000, and during these dry months the large Cape buffalo converge along the Chobe riverfront.
5. Bonus Adventures in Nearby Countries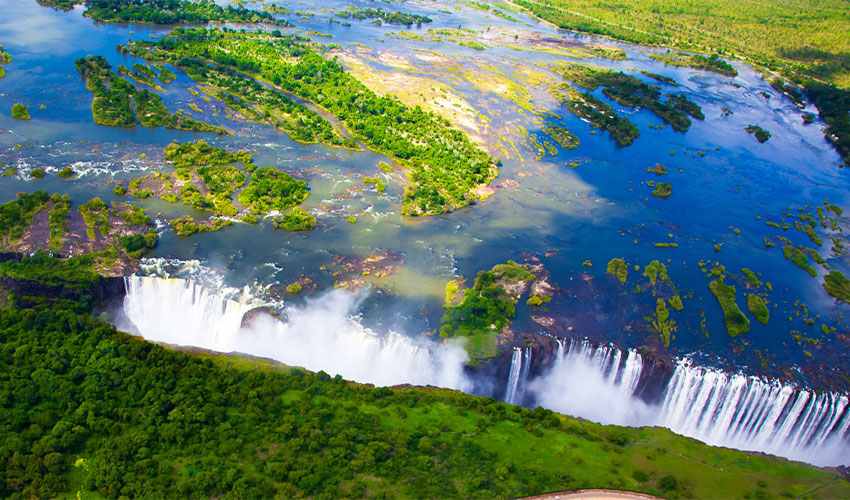 Botswana is a land locked country surrounded by South Africa, Namibia and Zimbabwe which means you'll most likely have to stop off somewhere before or after visiting. It also means you'll get to experience Africa's contrasting wildlife and culture. You'll most likely experience South Africa to connect with your international flight but also consider a visit to Victoria Falls. A stop at the falls is especially appealing as can travel by road, a road and boat combination or by a short air flight. Known as the "smoke that thunders," Victoria Falls is one of the Seven Natural Wonders of the World and visiting somewhere like Zimbabwe gives a nice contrast of morning walking safaris, night game drives and boating excursions on the river. There's also a chance to experience the friendly hospitality of the Zimbabwean people.
"Botswana is my favorite because it's so wild and untouched. Every time I return from Africa, I discover something amazing, but in the case of Botswana it really is heaven on earth."
Suzannah Zani, Safari Specialist
Ready To Go?
Here are three safaris to get you started. Every one of our trips are tailor-made with flexible booking options.
Call 1-800-421-8907 or fill out a safari planner and submit it to a safari specialist to plan a trip.
PLATINUM BOTSWANA

10 Days - Makgadikgadi Pans | Selinda Reserve | Okavango Delta

An ultra-lux African safari where you'll discover a front-row seat to nature's theatre at luxury-tented camps with ultimate privacy, where style and sustainability intertwine.

ULTIMATE BOTSWANA LUXURY SAFARI

10 Days - Cape Town | Linyanti Reserve | Okavango Delta

A celebration of art, architecture and sustainable travel with a visit to Cape Town, the remote Linyanti, the wildlife rich Okavango Delta, and the sculptural Xigera Safari Lodge.

WILD KINGDOMS OF SOUTHERN AFRICA

10 Days- Hwangwe National Park | Victoria Falls | Chobe National Park

A wildlife odyssey that showcases some of the best destinations in Southern Africa - from Chobe National Park, Hwange National Park and the incredible Victoria Falls.