Travel Changing the World
May 4th, 2021, by Joanna Bielawski
It was announced today that MAKE TRAVEL MATTER® Experiences by our parent company The Travel Corporation (TTC) and our family of brands has been named an honoree in the Corporate Social Responsibility category of Fast Company's 2021 World Changing Idea Awards. Fast Company is the world's leading business media brand, with an editorial focus on innovation in technology, leadership, world changing ideas, inspiring readers to lead with purpose and embrace change. Now in its fifth year, the Fast Company Award honors ground-breaking ideas launched in 2020 that are deeply committed to pursuing innovation for the good of society and the planet.
Selected from thousands of applicants, we are honored that our MAKE TRAVEL MATTER® Experiences have been recognized along with the other notable individuals and brands doing incredible, world-changing work. MAKE TRAVEL MATTER® Experiences were developed as a tool for TTC's brands to advance positive change around the world through the direct participation of travelers. They're meant to transform the way we think about the travel experience, for the mutual benefit of travelers and the people and places they visit. It is our hope this transformation can shift the way we travel for good, through long-lasting and meaningful impact.
Our everyday choices and actions have an impact on the world around us, and the way we travel is no exception. This has never been clearer than in the present era of COVID-19, with the entire world experiencing an unprecedented pause in travel. Never before have people across the globe collectively appreciated the gift of travel in its absence, in addition to its economic value to communities worldwide.
What sets MAKE TRAVEL MATTER® Experiences apart from other travel experiences?
MAKE TRAVEL MATTER® Experiences are chosen for the ways in which they directly advance the United Nations Global Goals (UNSDGs), widely accepted as the blueprint to address issues such as poverty, inequality, biodiversity and more. Established in 2016, the goals were quickly adopted by governments, businesses and society as those we should all be working towards. We used the UNSDG's and their specific indicators to develop a set of our own criteria, endorsed by leading industry sustainable development experts, which allow our family of brands to identify transformative experiences that go beyond being a feel-good experience. This means we are building travel experiences that display genuine social and environmental good.
To identify MAKE TRAVEL MATTER® Experiences, we built a proprietary assessment tool that identifies if an experience meets a Global Goal, and if so, which goal or goals it supports.
How Can an Experience Change the World?
Choices are critical. From the clothes you buy, the food you eat and the businesses you support, to the trip you've been waiting to take since COVID-19 made itself known. Our portfolio of MAKE TRAVEL MATTER® Experiences can change the travel industry, which is one of the world's largest, accounting for 10.3% of the global GDP (WTTC, 2019). By choosing to participate in one of these experiences and actively seeking out travel designed to make a positive impact, you are helping us to prioritise community-based enterprises – from supporting women-owned businesses, experiencing unique farm stays that utilize regenerative agriculture practices or learning about ancient cultures that carry on their traditions by sharing their stories with others. You have the power to choose these experiences and support sustainable practices, while setting the tone for the purpose-driven offering you expect of the wider travel industry.
Why and how are MAKE TRAVEL MATTER® Experiences designed around the Global Goals?
Our goal in developing our MAKE TRAVEL MATTER® Experiences was to positively impact broader environmental and social issues, so it was a natural fit to look to the United Nations Global Goals to help narrow our focus and ladder up to international efforts.
MAKE TRAVEL MATTER®

How you can start today
As part of our sustainability strategy How We Tread Right, our goal at African Travel is to include at least 1 MAKE TRAVEL MATTER® Experience on 50% of our itineraries worldwide by 2025, and we are well on our way there. For your next adventure, browse our MAKE TRAVEL MATTER® Experiences and join us in making travel a force for good. To view more ideas, visit our Sustainable Safaris.
9 Wild Ways to Celebrate World Wildlife Day
March 3rd, 2021, by Kristen Malaby
Today we are virtually celebrating World Wildlife Day. We cherish Africa's beautiful and various forms of flora and fauna every day, and would like to share how to have a positive impact while having immersive wildlife experiences on safari.
Some of Africa's most endangered species are at risk right now so one of the best ways to help is going on safari. Tourism helps to fund conservation efforts at many lodges and camps.
THE FUTURE OF TRAVEL
It is exciting to see how far Africa has come in its wildlife efforts. As our President shared recently in a Fodor's article on conservation-based vacations in Africa, there are many ways to not just view animals but have a more active and responsible experience.

African Travel, through its partnership with the not-for-profit TreadRight Foundation, is committed to a new How We Tread Right (HWTR) sustainable strategy and supports the UN's goal that all wildlife experiences are ethically responsible. We also provide tips while on safari to protect wildlife like how to use social media responsibly.
9 IMMERSIVE WILDLIFE EXPERIENCES
by Chelsea Todoro
To celebrate World Wildlife Day, we are highlighting nine immersive experiences where guests get up close and personal and even participate in conservation efforts. From gorilla trekking to animal tracking, explore opportunities beyond typical wildlife safari drives including:
1. Help save rhinos and big cats at Shamwari on our Majestic South Africa
2. Celebrate big and small wildlife at Sabi Sabi (watch video)
3. Share elephant moments at Jabulani in our South Africa Regal Retreat
4. Discover Pristine, Desert-Adapted Wildlife and Track Black Rhinos on our Deserts and Dunes of Namibia
5. Protecting primates in our Rwanda in The Mist.
6. Join researchers at Tswalu and learn about pangolin, meerktats, and wild dog projects in our South Africa Private Villa Safari
7. Amazing birdwatching across Africa, including Lake Manyara in our Tanzania Explorer
8. Unique Water and Desert wildlife experiences in Botswana
9. Protecting wildlife with man's best friend at Bushman's Kloof and Loisaba
Africa Experiences Celebrating Black Heritage
February 3rd, 2021, by Chelsea Todaro
Africa is famous for its wildlife, yet the continent's people are as equally fascinating. There are over 2,000 languages spoken and a myriad of cultures, including some of the world's oldest, that call this beautiful continent home. To explore the diversity of Africa's culture and heritage is one of the most rewarding experiences.
"As we celebrate Black History Month, we wanted to launch a collection of experiences that resonate with this year's theme of celebrating diversity and the black family. At African Travel we strive to connect our guests with local cultures who bring their personal stories to life," said African Travel, Inc. President Sherwin Banda.
The following are ways guests can learn how art, nature and culture has helped shape Africa's black heritage and how each guest can celebrate it in the future.
KENYA: INSPIRING CHANGE
Kenya is a magical mix where both the modern and ancient exist. It is also a place where many family roles have evolved, and people have learned to adapt to changes in modern society. You'll hear these stories in conversations with your Masai or Samburu guides while on your safari plus enjoy the following experiences.
A Conservation Success Story
During the World's Greatest Show & Safari - Mara, you will see first-hand the progress taken to promote education and wildlife conservation at the Lewa conservancy. The local Samburu are learning to live in harmony with wildlife by eliminating poaching, which was once a normality for their pastoral lifestyle to protect their grazing herds. You'll participate behind the scenes and meet the extremely proud members of the tracker dog unit and see the research and security team in action. You can also see how this work impacts classrooms with a school visit.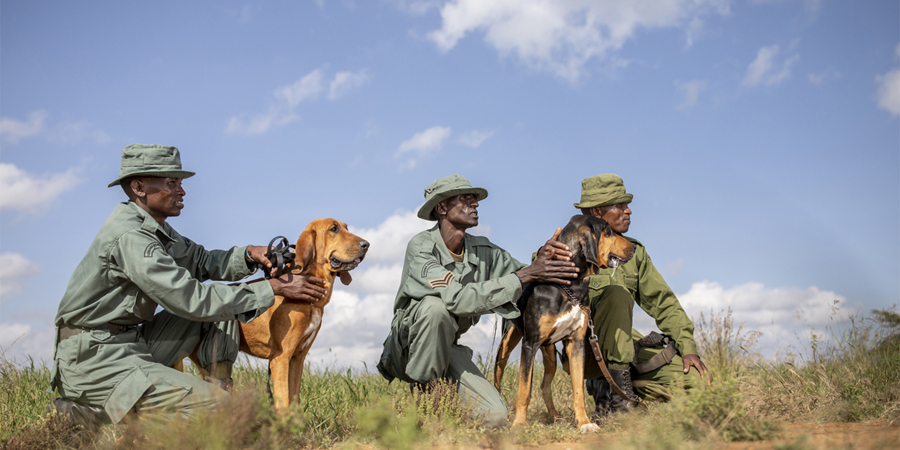 You can also invest in the next generation of East Africa conservationists. For every couple visiting Kenya and Tanzania, African Travel will sponsor a child to participate in the Land & Life Foundation Wildlife Warrior program who works with local communities, including ones in Lewa.
A Walking Safari with a Purpose
A walk with a Samburu guide is also a wonderful way to learn about the flora, fauna, culture and history of the area while hearing stories about their ancestral traditions and their life today. This can happen any time of year but if you time your trip right, you can also glimpse the singing wells as Samburu warriors chant and collect water for their cattle. Sometimes it is worth stepping back in time to appreciate the future.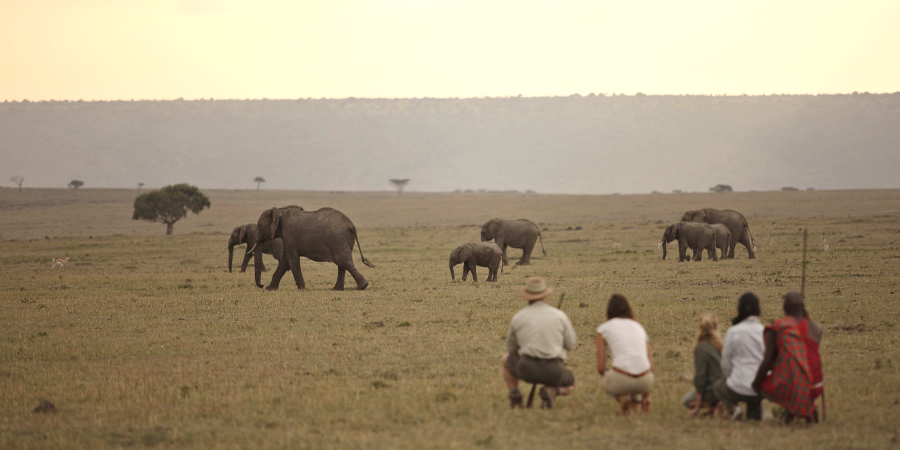 The Women of Reteti Elephant Sanctuary
On Captivating Kenya, your stay at the Namunyak Wildlife Conservancy provides the opportunity to explore Kenya's first elephant orphanage, the Reteti Elephant Sanctuary and learn about the awe-inspiring women of Kenya. Here you can meet some of the Samburu women who proved they are great at taking care of elephants, but also are a living example of how gender equality in the workplace empowers not just women in her community but in her country and the continent.
Beautiful Beads with a Big Impact
Another empowering experience where you meet women and participate in their story is a visit to the Kazuri Beads Factory in Nairobi. Kazuri, meaning "small and beautiful" in Swahili, and here can meet one of the 340 women skilled in crafting beads into beautiful and colorful jewelry and ceramics. You'll take away interesting gifts and stories.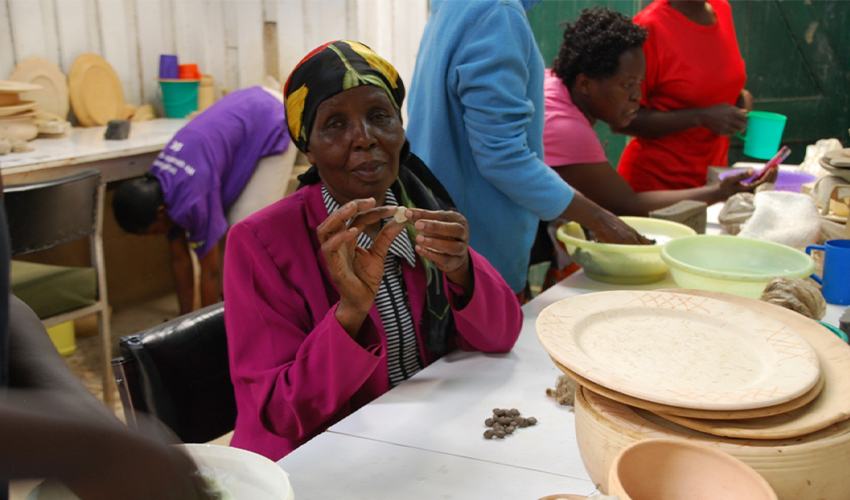 SOUTH AFRICA'S VOICES
South Africa is one of the most recognized places to celebrate black heritage. Figures like Nelson Mandela has helped bring attention to the region. The artists, musicians and makers in this 'Rainbow Nation' are helping to advance the country's story.
In the Footsteps of Mandela
A historic figure for equality and peace, Nelson Mandela paved the way for human rights in South Africa and is one of the most respected black leaders in modern history. We can arrange to meet Christo Brand who can share his experience as friend and guard during Mandela's infamous 27-year prison stay at Robben Island. Or you can visit the island during In the Footsteps of Mandela and also see how Nelson Mandela's South Africa is brought to life in Cape Town and Johannesburg through a collection of soulful encounters with the people and places he touched in his efforts to end apartheid.
Meet South Africa's Next Generation
Because of limited resources, Africa's sustainable art is out of necessity, borrowing from what is available and from the past and present. From Johannesburg's spoken and street art scene to Cape Town's famous galleries, restaurants, and shops, we tailor art, design and food tours to understand South Africa through its local artists and makers. In Cape Town, you can visit District Six, Bree Street near colorful Bo-Kaap, and Woodstock. On our last visit at What If The World Gallery we learned about works by Athi Pathra Ruga who has collaborated with Dior and Thania Peterson who finds her identity by exploring history.
On Experience South Africa, you can also hear about the fascinating history of South Africa through its artists while exploring the Ellerman House collection and spend some time with artists at Ardmore who create colorful home decor, lively paintings, beautiful jewelry and delicate ceramics that demonstrate Zulu traditions.
NAMIBIA'S WILD EXISTENCE
Home to 13 distinct cultural groups still enriched with ancient traditions, Namibia's desert and coastal landscape offers some of the most authentic experiences with Africa's people and wildlife which is probably why it is one of Africa's new hotspots.
Visit the Last Nomadic Tribes
The starkly beautiful Kaokoland, with its sand dunes and desert adapted wildlife is famous for having the largest population of free-ranging black rhino, a fascinating cheetah population, and opportunities to help monitor endangered desert-giraffe with the Giraffe Conservation Foundation.
Namibia is also home to the statuesque Himba people who are one of the last true nomadic tribes on earth. On Deserts and Dunes of Namibia, you'll learn about their fascinating way of life. While based at Hoanib Valley Camp, you can visit one of the remote villages and learn why they live in cone-shaped homes, why Himba women famously rub their bodies with a red ochre cream to protect their skins, and how the Himba are able to continue their traditions today.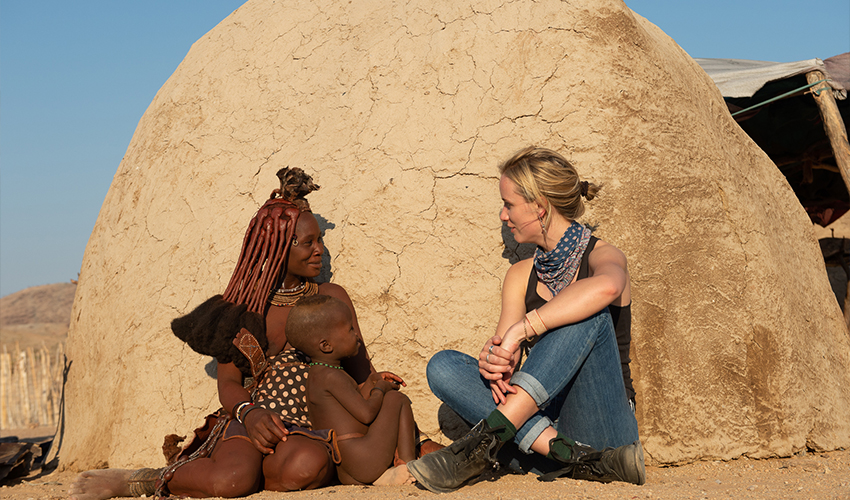 RWANDA: A SYMBOL OF HOPE
For a country that was in turmoil just 25 years ago, today a united Rwanda stands as an extraordinary example of the best of humanity. The country's unbeatable gorilla trekking experiences will leave you with a smile on your face, but the people will steal your heart.
Learning from the Past
A guided tour of Kigali Genocide Memorial gives a deeper insight into Rwanda's darker history. The museum uncovers the history of the divisive colonial experience in Rwanda and background of the horrific genocide against the Tutsi tribe in 1994, which spanned 100 days. While it is a sober experience, it also offers a lesson in forgiveness and illuminates the hope you'll see throughout Rwanda.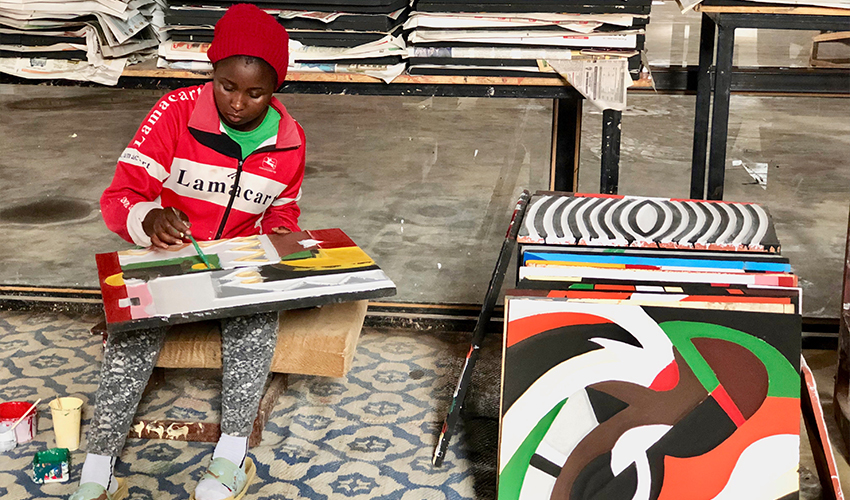 Rejoicing in Kigali's Future
It is exciting to see the energy in Rwanda and especially in Kigali. We recommend a few days in Kigali, perhaps staying at The Retreat in our Discover Rwanda, which showcases Rwandan arts, photography and more. Take a guided tour to see the changing façade which is attracting investment because it is hailed as one of the friendliest cities in Africa. Meet local artisans at the Inema Art Centre and revel in colorful dance and musical performances. With the help of an interpreter, you can visit the Nyamirambo Women's Center and work with a local weaver who educates you on importance of the craft, where the vibrant colors come from, and helps you make your own earrings or small Agaseke baskets.