Why Uganda
Called the 'Pearl of Africa, Uganda's lush forests hold a unique primate population and fine scenery that is ideal for adventurous travelers.
Uganda's Bwindi Impenetrable Forest is a popular safari spot for adventure seekers, renowned for its population of about 300 mountain gorillas. Venture to the lush green Kibale Forest, home to 13 primate species, and Elizabeth National Park to observe characterful chimpanzees. Other animal encounters include incredible lion sightings in the Kasenyi Plains or cruising the Kazinga Channel, home to pink-backed pelicans, hippos and the Ugandan Kob.
Quick Info

Where to Stay: Intimate lodges and tented camps concentrated around the wildlife hotspots, deliver friendly service and plenty of comfort.

Game Viewing: Pop-top, 4×4 safari vehicles; trekking to view gorillas and chimpanzees; game drives at Queen Elizabeth seeking elephants, lions, bushbuck.

Getting Around: Charter flights are recommended and road transfers are conducted in mini buses or 4x4 vehicles.

Highlights: Visit a community of orphaned chimps on Ngamba Island, enjoy sundowners, watch wildlife on the savanna plains at your eco-lodge, enjoy poolside views of Lake Kyaninga and the Rwenzori Mountains.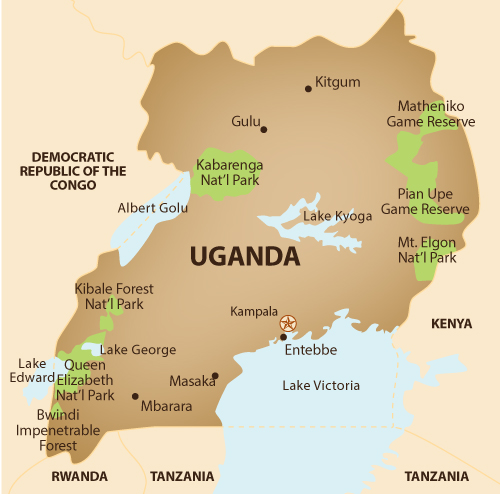 Weather

HI/LoF

Rainfall
Uganda Tours
Endangered mountain gorillas and intriguing chimpanzees are the star attractions in this adventurous safari to Uganda. Venture to the lush green Kibale Forest, Queen Elizabeth National Park and Bwindi Impenetrable Forest to track and observe the habituated primates.